Letter from the Chair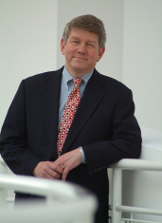 Welcome to The Sam Nunn School of International Affairs.  As you wander our web site you will discover that this school lies at the vibrant intersection of science, technology and international relations and policy.  In a world that is rapidly shrinking and ever more interconnected and where the explosion of technology is impacting all parts of the globe - we focus on equipping our students with Georgia Tech's cutting edge technology tools, a global perspective and leadership skills through a new model of professional education that is theoretically grounded and practice and policy oriented.
Named for former Senator Sam Nunn whose continued presence and work on global issues inspires our efforts to be both useful and innovative, our School offers BS, professional MS, and Ph.D. degrees as well as a minor in international affairs.  We also provide certificate programs in International Affairs; Asian Affairs; European Affairs; Latin American Affairs; and Scenarios, Modeling and Military Games.  The Nunn School sponsors summer study programs around the world, and many of our students obtain practical internships in a variety of governmental, non-governmental and private sector settings.
In these very challenging times - leadership that can make a difference in the future will require the capacity to understand and work collaboratively with different cultures using evolving technologies and an understanding of global systems.  The Nunn School is uniquely situated to provide these opportunities as part of one of the world's foremost technological universities on its exciting midtown Atlanta campus.
I hope you explore what The Sam Nunn School of International Affairs has to offer and would invite you to contact us and visit the campus in person.
Joe Bankoff
Chair