Degree
International Affairs
Job Title / Employer
Law Student at the University of California, Berkeley,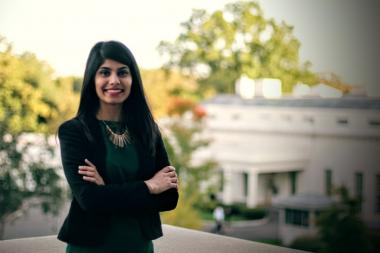 Angeli Patel graduated from our undergraduate program in International Affairs in 2014. After graduating, she became a National Science Foundation CyberCorps Fellow and interned at the White House.  Her fellowship led her to become a full-time Presidential Appointee at the White House in the Office of Management and Budget. She worked for the Obama Administration until the end of the second term. Then she worked with the Chilean Government in their Ministry of Finance advising them on technology policy. Angeli is currently studying law at University of California, Berkeley.
BUILDING BRIDGES
Georgia Tech provided me with the ability to be a bridge between the technology/science world and policy. I was an asset to every government organization I worked with because of my ability to understand novel policy issues arising from technological change. I benefitted greatly from the Nunn School's spontaneous and curious approach international studies. I wasn't like the other International Affairs majors. I had a whole different world-view to offer.
THE IMPACT OF STUDYING INTERNATIONAL AFFAIRS
Every time I am in a room filled with tech experts or legal experts, my international affairs knowledge always helps me stand out and see issues from a global perspective. This is often a lens that is missing from conversations and decisions. Though I don't work specifically on international issues, every issue in law and technology has a counterpart in the international sphere.
SEEKING MENTORS
Internships were invaluable for me. They helped me build relationships with mentors, define my interests and refine my professional skills. The more I did, the better I got. It also helped me really understand what I wanted to do after graduating and helped me hit the ground running.
One really important thing I have learned over the past few years is the importance of mentors. My mentors have given me the confidence and direction I've needed when trying to make decisions. Every student should seek to have at least one mentor that they can rely on for advice.
WOULD YOU CHOOSE THE NUNN SCHOOL AGAIN?
I would choose to study at Nunn School because of its unique focus on science and technology. It is increasingly becoming hard to separate global issues from scientific/technological advancements. From energy to human rights, there is a technology solutions or issue that needs to be hashed out. That makes Nunn School graduates uniquely positioned to give advice and create change.
FAVORITE NUNN SCHOOL PROFESSOR
This is a tough question. I have many favorites but I am biased to say Peter Brecke. His passion for research and also his passion for seeing his students succeed is amazing. He's challenges you and trusts you to use your judgment and work ethic to solve problems. To me, that's perhaps the most valuable thing anyone can offer.