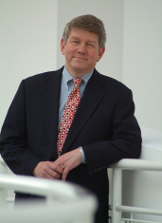 As we approach the end of a tumultuous 2016 in our nation and around the globe, I find myself both comforted and challenged as I walk the halls of the Sam Nunn School of International Affairs. I am comforted by the continuing progress and growth of our faculty and students in their research, understanding, and professional development.  Over the past five years we have hired a dozen outstanding faculty members, added the new Minor in Global Studies and become a "connector" on technology policy issues across the campus.  I am also challenged, however, to make sure we continue to strengthen the tools and experience opportunities we provide our students to prepare them to be effective leaders in a very globalized 21st Century.
This December 11th we celebrated the 20th anniversary of the naming of the Sam Nunn School of International Affairs at Georgia Tech in honor of former US Senator Sam Nunn for his contributions to the nation and his example as a global leader.  It was a remarkable assembly of past and current President's of Georgia Tech and present and former faculty and school leadership.  Last year's Distinguished Alumnus, Dave Cooper also joined us for the event.
For a generation, the Sam Nunn School has served as a bridge on Georgia Tech's campus between the realms of technology, policy, culture, and the humanities.   We have raised the visibility of the School and the value of what we contribute to Georgia Tech's Strategic Plan to redefine the Technology Institute of the 21st Century.  Since its founding, the Nunn School has granted 1,978 diplomas to its undergraduates, master's, and PhD candidates and is currently educating over 250 future leaders in its degree programs.
We greatly appreciate the support that our Alumni and our Advisory Board are contributing to the growth and trajectory of the School.  While there is still much progress to be made in our nation and in our world, I remain confident that the Nunn School will continue to equip its students with the skills necessary to make major impacts internationally. This would not be possible without the support and dedication of Georgia Tech, our faculty, staff, trusted advisors, alumni, and other supporters. 
Thank you for your continuing support of the Sam Nunn School of International Affairs.  On behalf of us all at the School I wish you a happy holiday season and a wonderful start to 2017.
Joe Bankoff
Chair, Sam Nunn School of International Affairs