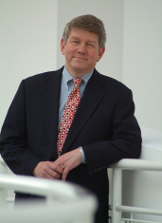 2017 has been an exciting 20th Anniversary Year for the Sam Nunn School at Georgia Tech.  We completed a very positive Academic Program Review conducted by a distinguished panel of academic and business leaders who are expert in international affairs. We have taken full advantage of the presence of Admiral Winnefeld and General Breedlove (retired Vice Chair of the Joint Chiefs and the former Supreme Allied Commander Europe) who joined us as Distinguished Professors interacting with our students in various classes.  They have been joined this year by Dennis Lockhart, former President of the Federal Reserve Bank of Atlanta.
Members of our faculty continued to serve in important policy roles across the Globe – including directing the United Nations Institute of Computing in Macau, working on Space Policy at NASA, and advising on Middle East Policy in the Office of the Deputy Assistant Secretary of Defense. Our faculty continued to be highly productive with new books on China, European Trade, US and EU Response to China's Rise and journal publications on a wide variety of critical global issues.  We expanded our efforts in Global Development with research projects in India and are working to create a new Graduate Certificate in Global Development.  With funding from the new Neal Family Chair, we created an Associate Chair for Research helping to seed research projects across the school.  
Our students continue to amaze me with the breadth of their interests, their focus on problem-solving and their desire to be "useful."  Thus at the time of great challenge in our nation and around the globe, I am pleased by the continuing progress and trajectory of our faculty and students in their research, understanding, and professional development. 
During 2017 we celebrated the 20th anniversary of the naming of the Sam Nunn School of International Affairs at Georgia Tech in honor of former US Senator Sam Nunn for his contributions to the nation and his example of great global leadership.  During the year we completed the $2.5 million fundraising to endow the "Sam Nunn Chair" in his honor.  We are continuing our efforts to find increased funding support needed for our graduate students. 
The Nunn School continues its service as a "policy and global cultural bridge" across the technical disciples on campus.  Members of our teaching and research faculty enjoy cross or courtesy appointments in the College of Computing, the School of City and Regional Planning, the School of Mechanical Engineering, the Carter Center and the Georgia Tech Research Institute. One of our faculty also serves as Co-Director for Policy at Georgia Tech's Strategic Energy. 
My thanks to each of you for your continuing support of the Sam Nunn School of International Affairs.  On behalf of us all at the School, I wish you a happy holiday season and a wonderful start to 2018.
Joe Bankoff
Chair, Sam Nunn School of International Affairs