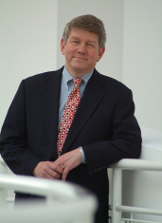 2017 marked an important milestone for the Sam Nunn School of International Affairs - we celebrated the 20th anniversary of the naming of our school in honor of Senator Sam Nunn. To build on this momentum, we need help obtaining additional resources for our TOP strategic priorities: financial fellowships to grow our masters and PhD programs; competitive scholarships to attract qualified minority and out of state students; and placement and fellowship assistance for our graduates.
Senator Nunn's ideals and example as a global leader have provided inspiration and guidance to our students, faculty, staff, and alumni. In these challenging times, we need more leaders like Senator Nunn - leaders who will understand and work collaboratively with different cultures using evolving technologies and have an understanding of global systems.
At the Nunn School, we are focused on equipping our students with cutting edge technology tools, a global perspective and leadership skills through a new model of professional education that is theoretically grounded and practice and policy oriented. This Fall, we welcomed 14 master's students, 4 PhD students and 61 EIA, IAML, and INTA majors to the Nunn School. We are sure they will find their niche at Georgia Tech, whether it's joining Model UN or INTAGO. 
For a generation, the Sam Nunn School has served as a bridge on Georgia Tech, linking technology, policy, culture, and the humanities. We have raised the visibility of the School and the value of what we can contribute to Georgia Tech's Strategic Plan to redefine the Technology Institute of the 21st Century.
We greatly appreciate the support that our Alumni and our Advisory Board are contributing to the growth and trajectory of the School. While there is still much progress to be made in our nation and in our world, I remain confident that the Nunn School will continue to equip its students with the skills necessary to make major impacts internationally. This would not be possible without the support and dedication of Georgia Tech, our faculty, staff, trusted advisors, alumni, and other supporters.
Thank you for your continuing support of the Sam Nunn School of International Affairs. On behalf of us all at the School, we wish you a great start of the academic year.
Joe Bankoff
Chair, Sam Nunn School of International Affairs