Georgia Tech and the Sam Nunn School of International Affairs work together to help students understand the career which best fits them and provide them with the tools to pursue it. Career counseling is available to help students pinpoint their strengths and limitations, specific career interests, and the type of work environment they would excel in. The Nunn School hosts employer information sessions, talent and skill workshops, and alumni networking events to support student career development.
The staff at the Georgia Tech Career Center are also available for career advice, resumé review, interview preparation, intern and co-op search, and other career-related needs by appointment or scheduled walk-in hours. Career Educator Kyle Poe is available to assist undergraduate Nunn School students. Graduate Career Advisor Casey Hampton is specifically available to assist graduate Nunn School students. The Career Center can also be reached online via its website or by phone at (404) 894-2550.
Students are strongly encouraged to meet with the undergraduate Academic and Professional Development Advisor, Stephanie Jackson, to explore how internships and academic goals can shape their career plans. Undergraduate students usually begin exploring careers and internships during their sophomore year, while graduate students begin at least six to nine months before graduation.
What can students do with a degree in international affairs?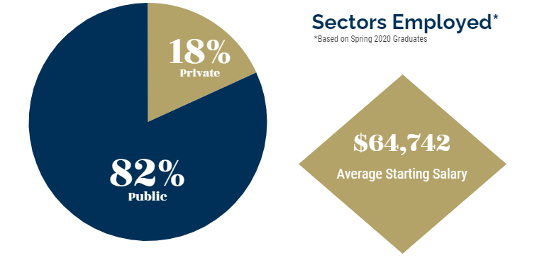 International affairs graduates pursue careers in the public, private, and non-profit sectors (reference the breakdown to the right). From our curriculum, students acquire knowledge of international government policies, economics, security, and development, as well as for analytic and technical (modeling simulation, quantitative research, GIS) skills which make them very attractive to companies, state agencies, and organizations with an international focus. Many graduates are attracted to public sector careers. They go on to work at the CIA, FBI, International Trade Administration, and the US State Department, among other federal and state government agencies. Our graduates are also valued in the private sector. They are hired as consultants and threat risk analysts, by companies such as The Coca-Cola Company, McKinsey & Company, Invesco, Home Depot, and Facebook.
In addition, graduates put their skills to good use for nonprofit or non-governmental organizations such as International Rescue Committee, The Carter Center, Brookings Institution, Center for a New American Security, and the International Institute for Strategic Studies.