Welcome
Welcome to the Sam Nunn School of International Affairs at Georgia Tech. The Nunn School focuses on training students for 21st-century careers through applied learning and research in international security, global development, and international affairs, science, and technology. As a student, you will have the ability to develop your course of study based on specific needs and career aspirations. Our goal is for you to leave the program empowered to use the technical and essential skills to improve the global human condition, whether you work in the private, public, or nonprofit sectors. 
Degree Programs
Undergraduate Programs
Undergraduate Minors
Undergraduate Certificates
Graduate Programs
Graduate Certificates
Academic Resources
Academic Support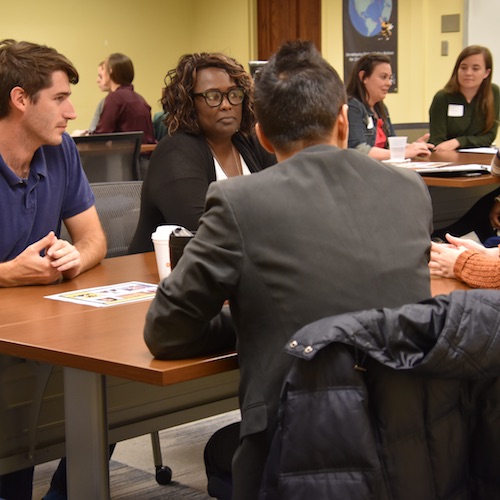 The mission of Tutoring and Academic Support programs is to support undergraduate students in achieving their academic goals through a range of both personalized and campus-wide initiatives that foster self-regulated learning, enhance academic skills, and create opportunities for leadership and continued development within and beyond Georgia Tech's rigorous environment.
Communication Center
Trained consultants can help students with everything from their multimodal projects for English 1101 and English 1102 to graduate school applications, from engineering and science reports to team presentations, from storyboards for videos to poster designs, from grant proposals to cover letters and resumes 
Academic Advising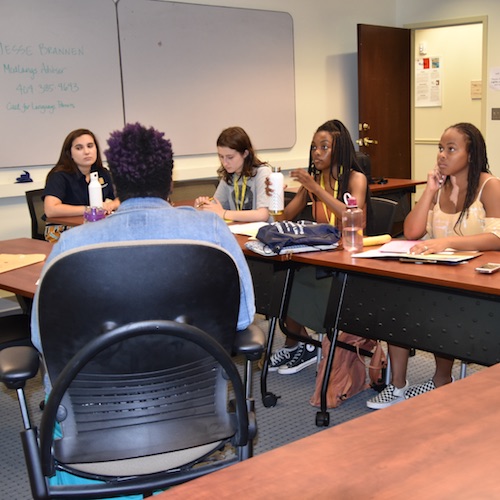 The academic advising experience at the Sam Nunn School of International Affairs is hands-on and personal. It is a relationship in which both the advisor and student contribute. The goal is to provide a supportive and challenging environment in which students can explore academic and career options, discuss concerns, and creatively construct an undergraduate or graduate experience that helps achieve personal, academic, and career goals. 
Career Services

Career Center
The Georgia Tech Career Center is a part of the Georgia Tech Office of Undergraduate Education, created by the integration of the Division of Professional Practice (DoPP) and Career Services. DoPP includes the cooperative education (Co-op) and internship programs in which students can participate while attending Georgia Tech, and Career Services gives them the resources they need to support their searches for full-time employment after graduation, such as help with the exploration, selection, and pursuit of meaningful careers; career counseling; career fairs; seminars; resume writing; interview tips, and more. 
CareerBuzz
CareerBuzz is a state-of-the-art interview and job posting management system. The CareerBuzz system will enable Students to upload resumes, search and apply for full time, part time, and internship positions, sign up for on-campus interviews and more. The system will allow employers to post job openings, review applicant resumes, request space for on-campus interviews, select and invite students to interview, and many other job management functions.
Additional Job Search Resources 
Georgia Tech and the Sam Nunn School work together to help students understand the career which best fits them and provide them with the tools to pursue it. Career counseling is available to help students pinpoint their strengths and limitations, specific career interests, and the type of work environment they would excel in.  
Internships
In this competitive job market, interning is an excellent opportunity for students to figure out postgraduation plans through valuable, hands-on experience. It is also a way to apply the technical and essential skills gained through classes in a professional work environment. Former students have interned at different organizations, including the ones below.
ACLU of Georgia 
Amazon 
American Chamber of Commerce in France 
American Chamber of Commerce in Jordan 
American Enterprise Institute  
Amnesty International  
Booz Allen Hamilton 
Boston Consulting Group 
Canadian Consulate in Atlanta 
CARE USA 
Centers for Disease Control and Prevention 
Central Intelligence Agency 
CNN International 
Coca Cola Company 
Consulate General of Israel  
Deloitte 
Delta Air Lines 
Equal Employment Opportunity Commission 
Equifax 
European Parliament 
Federal Bureau of Investigation 
Federal Reserve Bank of Atlanta 
Georgia Bureau of Investigation 
Georgia Department of Economic Development 
Georgia State Capital Legislative 
Georgia Tech Research Institute 
Habitat for Humanity International 
Hudson Institute 
International Rescue Committee  
Metro Atlanta Chamber of Commerce Atlanta 
National Threat Initiative 
NCR 
Point of Light 
Salesforce 
The Carter Center 
The Home Depot 
The White House 
U.S. Attorney's Office  
U.S. Congress 
U.S. State Department 
UNICEF 
United Nations 
UPS 
USAID 
Careers
The goal of the Nunn School is to prepare students to successfully transition into their careers. The Nunn School does this by complimenting the essential skills with more technical skills to give graduates an added advantage. Students leave the program with empirical/data analysis, critical thinking, oral communication, and writing skills to tackle some of the world's most pressing issues.
Our students work in the private and public sectors at organizations across the U.S. and around the world. From the class of 2022, 77% interned as a student, 57% held leadership roles in student organizations on campus, 34% completed independent research, and 50% had an employment offer at graduation with an average starting salary of $63,771.
Below is a shortlist of titles and jobs alums have held upon graduating: 
| Degree | Company | Title |
| --- | --- | --- |
| B.S. EIA | CMSPI | Payments Analyst |
| B.S. EIA | Federal Reserve Bank of Atlanta | Research Associate |
| B.S. EIA | ICF | Data Analyst |
| B.S. EIA | Peace Corps | Peace Corps Volunteer |
| B.S. EIA | PGIM Real Estate (Prudential Real Estate Investors) | Investment Analyst  |
| B.S. EIA | Regions Bank | Corporate Banking Analyst |
| B.S. EIA | United States Air Force | Pilot Trainee |
| B.S. IAML | Accenture Federal Services | Management Analyst |
| B.S. IAML | Coxe Curry & Associates | Campaign Assistant |
| B.S. IAML | Delta | Innovation Consultant |
| B.S. IAML | Equifax | Operations Readiness Associate |
| B.S. IAML | McKinsey & Company | Business Analyst |
| B.S. IAML | Teach for America | ESL Elementary School Teacher |
| B.S. IAML | United States Navy | Officer |
| B.S. INTA | Amazon | Sourcing Recruiter |
| B.S. INTA | Atlanta Mission | Associate Donor Engagement Specialist |
| B.S. INTA | Cox Communications | Project Management Specialist |
| B.S. INTA | Deloitte Consulting | Business Technology Analyst |
| B.S. INTA | Department of Defense | Trainee |
| B.S. INTA | Department of Homeland Security  | Intelligence Operations Specialist |
| BS INTA | PwC | Management Consultant Associate |
| B.S. INTA | The Boeing Company | IT Career Foundation Program Member |
| B.S. INTA | The Widener Firm | Paralegal |
| B.S. INTA | United States Marine Corps | Second Lieutenant |
| M.S. INTA, B.S. IAML | National Air and Space Intelligence Center (NASIC) | Intelligence Analyst |
| M.S. INTA, B.S. INTA | Capital One | Finance Rotational Program |
| M.S. INTA, B.S. INTA | Department of Homeland Security | Analyst |
| M.S. INTA | Apple, Inc | Regional Training Manager |
| M.S. INTA | Booz Allen Hamilton | Senior Consultant |
| M.S. INTA | Department of State | Foreign Service Officer |
| M.S. INTA | Governor's Office of Student Achievement | Policy and Research Analyst |
| M.S. INTA | Office of the Director of National Intelligence | Data Scientist |
| M.S. INTA | Office of the Secretary of Defense | International Affairs Specialist |
| M.S. INTA | United States Army | Foreign Area Officer |
| Ph.D. IAST | Georgia Institute of Technology | Research Scientist II |
| Ph.D. IAST | RAND Corporation | Associate Political Scientist |
Life as a Student

Student Organizations
A big part of student life at Georgia Tech is what goes on outside the classroom, so you'll have plenty of company in pursuing your passions and interests. This includes 13 honor societies, 56 Greek organizations, and 400+ student organizations.  
Sports and Recreation
Our NCAA Division I athletics program features 17 men's and women's sports, and Tech students are passionate about their beloved 
Yellow Jackets
. Intramural teams and club sports, plus our award-winning Campus Recreation Center, make it easy for all students to find opportunities for competitive fun and personal fitness. Georgia Tech also has one of the best 
outdoor recreation
 programs in the country, with year-round excursions near and far.
On-Campus Dining
On-campus locations include North Ave and Brittain Dining Halls, Highland Bakery, Starbucks, Wing Zone, Panda Express, Chick-fil-A, Twisted Taco, various food trucks, and more.  
Arts and Culture
Because we live in a world where art, science, and technology touch every aspect of the human experience, Georgia Tech has a thriving 
arts and culture
 scene that ranges from the classroom to the coffeehouse. This includes 37 student-led arts organizations, 9 campus arts venues, and 28 academic programs that blend art and tech.  
History and Traditions
From the world-famous "Ramblin' Wreck" fight song to the fun and festivities of RATS Week, the Tech campus is steeped in time-honored traditions that students embrace from generation to generation. 
International Experiences
Study Abroad 
The Nunn School encourages students to participate in at least one study abroad experience while completing the degree program. The School sponsors summer programs focusing on: 
European economic integration and security institutions in Brussels 
Nontraditional security challenges across Southeast Asia 
Democratization, privatization, and regional economic integration in Argentina 
Sustainable Development in Japan
Intern Abroad
Interning abroad with global and multinational companies and organizations can help students obtain valuable work experience that will help shape them as global leaders. In addition to the resources available to assist students obtain local and national internships, the Global Internship Program office exists to help students round out their academic studies with practical, international work abroad experience. Co-op, internship, graduate, and undergraduate work experiences are designed to give students practical training, cross-cultural exposure, and learning. 
International Plan
The International Plan is a challenging and comprehensive academic program for undergraduates that develops global competence within the context of a student's major. 
City of Atlanta

Things to Do (Popular Attractions)
Centennial Olympic Park
Martin Luther King, Jr.
National Historical Park
Piedmont Park
Atlanta Botanical Gardens
World of Coca-Cola
Georgia Aquarium
Zoo Atlanta
Six Flags Over Georgia
Fox Theatre
SkyView Atlanta
Atlanta Beltline
Krog Street Market
Ponce City Market
Atlantic Station
The Carter Center
CNN Center
High Museum of Art
Margaret Mitchell House
Places to Eat
Tech Square: 

Gyro Bros.
Moe's Southwest Grill
Ray's New York Pizza
Starbucks
Subway
Tin Drum Asian Kitchen
Waffle House
Company and Organization Information
Delta Air Lines
The Coca-Cola Company
UPS
NCR Corporation
The Home Depot
Cox Enterprises
Georgia-Pacific
Equifax
CARE USA
Carter Center
Habitat for Humanity
American Cancer Society
World Affairs Council of Atlanta
Atlanta Council on International Relations
Georgia Council for International Visitors
26 Diplomatic Missions
28 Bi-National Chambers of Commerce
Fun Facts
Atlanta has over 55 streets with the name Peachtree.
The Varsity is the world's largest drive-in restaurant. Find it alongside I-85 at the corner of North Ave and Spring St.
Hartsfield-Jackson Atlanta International Airport is the world's busiest airport. Atlanta beat out Athens, Toronto, Melbourne, Manchester, and Belgrade to host the 1996 Olympics.
Atlanta may be the next Hollywood as Georgia now ranks third in the nation for film production and first in growth. Just a few of the many projects shot in Atlanta include The Walking Dead, Baby Driver, Stranger Things, The Hunger Games, Selma, The Vampire Diaries, several top Marvel movies, and more.