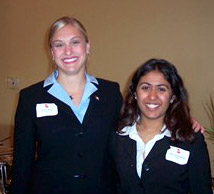 Internships with companies in the international affairs field help students gain valuable experience, increase their marketability after graduation, narrow down major and career choices, command a higher starting salary, look impressive to graduate schools, and have meaningful experiences to discuss during job and graduate school interviews.
Cooperative Education Program (Co-op)
Nunn School students who decide they want to intern with the same organization for at least four semesters during their time at Georgia Tech should consider enrolling in the Cooperative Education Program, or Co-op Program. Although the Undergraduate Co-op Program is mainly composed of engineering students, co-op placements are considered internships for graduate students. Thus, several graduate INTA students participate in the Graduate Co-op Program every year. Co-op placements are usually limited because employers attractive to INTA students often do not offer co-op positions. Additionally, most INTA students want to have several unique internship experiences, possibly one internship with a media organization, another internship with a think tank or government agency, and a third internship with a business.
Professional Internship Program
Typically more attractive to undergraduate Nunn School students is the Georgia Tech Internship Program (GTIP). The benefits of GTIP are identical to those offered to co-op students, but the bonus is that participants are allowed to switch employers each intern semester. Should a student start in the GTIP and decide to stay with the same organization for multiple semesters, the student can easily switch to the Co-op Program.
The Nunn School encourages students to explore both the Co-op Program and GTIP to see which best fits their needs. Internships can be found on CareerBuzz, Georgia Tech's resource for access to internships, job listings, on-campus interviews and more. The Nunn School also posts opportunities to the advising blog and weekly digest. Students are expected to complete two internships while in the program and advised to meet with the Nunn School Career Advisor to create an internship strategy.