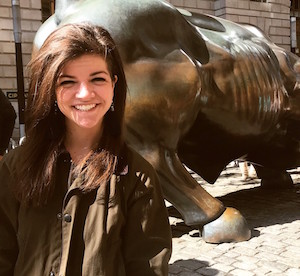 Keyes Gilmer, BS INTA, D. William Brosnan President's Scholar, Georgia Tech
What degree are you pursuing in the Nunn School? Are you being supported by any scholarships or fellowships? If so, which ones?
I am currently pursuing a Bachelor of Science in International Affairs. I am also double minoring in economics and law, science, and technology. I am currently able to attend Georgia Tech due to the generosity of the Stamps President's Scholarship Program. I am extremely thankful to be a D. William Brosnan President's Scholar and a Stamps President's Scholar, both through the continued support of the SPS program.
If given the opportunity, why would you choose the Nunn School again for your education? What motivated your choice or has been the most impactful so far?
I have spent the majority of my life torn between the two professional paths of law and medicine. My draw to both of these fields only increased when, in high school, I was diagnosed with an eating disorder and hospitalized for four months. As soon as I was discharged, I knew that I wanted to become an international advocate for mental health awareness; I wanted to stand up for others who were facing similar struggles as me. When I came to Georgia Tech and toured the Nunn School, I realized its phenomenal program would prepare me for this dream. As a result, I dove headfirst into the legal field and decided to major in International Affairs. Until recently, I have been very private about my eating disorder diagnosis. However, the community at the Nunn School has allowed me to build confidence in my abilities as an advocate, and eventually share my testimony on a national stage on the Ellen Degeneres show. I would never change my decision to join the Nunn School. It is where I have found I belong.
In an environment of increasingly complicated global challenges, what do you feel the Nunn School has done to prepare you to tackle these challenges?
I have quickly found that, as a whole, Georgia Tech is an institute that knows how to prepare its students for the future, no matter what it may hold. The Nunn School is no exception to this idea. I have acquired more hands-on experience with my major than I would have at any other university or institution. The first example that comes to mind is a Global Issues and Leadership class that I enrolled in last fall. This class pushed me to the breaking point in more ways than one; I presented international policy recommendations to military leaders, international ambassadors, and even the current President's counterterrorism policy advisor – who was skyping us from the White House Situation Room. I worked with Masters students from around the world to present briefs on topics for which we had only weeks to become experts. Since this class, I have used the skills I learned to succeed in multiple facets, including my current internship with a major national law firm. This experience is invaluable and one I could only achieve at the Nunn School.
How have scholarships or fellowships impacted your education at the Nunn School?
As an undergraduate student with the goal of attending professional school, I always knew that my budget for my undergraduate degree was limited. Despite this initial roadblock, I fell in love with Georgia Tech and the Nunn School as soon as I toured the campus. However, as an out-of-state student, I knew that I would never be able to pay the full price of tuition and fees. Receiving the Stamps President's Scholarship has truly allowed me to attend the school of my dreams. Without this financial aid, I would have never been able to come to Georgia Tech – a place I now call my home. To any alumni or potential donors who are considering supporting future students, I have two words: do it. I have discovered through meeting the other students in my scholarship program that the best way to invest in the future is to invest in students. They have a passion and drive to pay their scholarship forward in a way I never realized was possible. As a result, your donations aren't just simply helping the student whose degree you are funding – they are also serving to aid each and every person these students are able to reach as a result of the skills and education they have earned here at Georgia Tech.