The Bachelor of Science in International Affairs (INTA) is an interdisciplinary degree program designed to provide students with the skillset they will need to engage in strategic planning and analysis in an interdependent and multicultural world.
The INTA curriculum gives students the flexibility to build the program based on their post-graduation plan. Students can use the 21 international affairs elective hours to concentrate in Global Development, International Security, or International Affairs, Science, and Technology, among other areas of focus. With a concentration, we want students to leave the program empowered to tackle some of the world's most important challenges.
The program requires an introductory careers course and senior capstone project in international relations. Cluster electives allow for a minor or certificate specialization in a relevant discipline.
Degree Benefits

Research-Based Courses
The program requires an introductory career course to get students thinking about employment opportunities in international affairs.
At the end of their studies, students will take a senior qualitative/quantitative research capstone to apply the knowledge gained in their studies.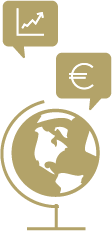 Non-Major Cluster Electives
Students can use their non-major cluster electives to obtain a minor or certificate in an area of interest. A minor or certificate helps graduates stand out by signaling to employers or grad schools that they have specialized knowledge in a particular subject outside of their major.
INTA Degree Checklist & Academic Map
INTA Degree Checklist & Academic Map
---
HTS requirement for INTA degree
As is listed on the degree checklist, every student must complete one HTS course for the INTA degree. The goal of this course is a broad study of non-U.S. history. The courses that count towards this HTS requirement can be found in the course catalog.
---
Technology Requirement
All Nunn School undergraduates are required to complete two technology courses before graduation. Specific classes can be found in the course catalog.
---
Cluster Electives
A non-major cluster is a grouping of classes that are related or thematic, like pre-law, business, analytics, or pre-health. The purpose of the cluster is to give students a secondary area of specialization and to provide additional depth to the undergraduate program. A non-major cluster can combine classes from the same department or from different departments. The only requirement is that the classes be related. Classes used towards a minor, certificate, or second major can count towards a cluster. More information is available in the course catalog.