Studying International Security offers students the opportunity to understand conceptual foundations and practical policy analysis of issues as diverse as defense policy, military strategy, negotiation, terrorism, peacekeeping, intelligence, arms control, nuclear proliferation, cyber and cross-domain warfare/coercion, strategic stability, and other contemporary issues. This track infuses systematic strategic and comparative perspectives to assess the impact of emerging technologies that confront contemporary policymakers, research analysts, company executives, and military personnel.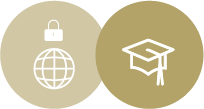 Academic Programs
Undergraduate Programs

Undergraduate Minors

Undergraduate Certificates

Graduate Programs

Graduate Certificates
Events
Throughout the academic year, the Sam Nunn School hosts events that engage expert speakers in the area of International Security. Past events have focused on leadership decapitation and Russia's political system. The Nunn School normally hosts 20-25 events per year with five focused on an area in International Security.