The International Affairs, Science, and Technology research track addresses mounting concerns surrounding the causes and consequences of issues at the nexus of globalization and science and technological transformation. IAST-related research covers topics such as: international energy security, environmental politics, and sustainability; information and communication technologies; space policy and security; global fintech, competitive innovation/regulation strategies, intelligence, and arms control and global governance.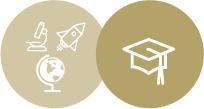 Academic Programs
Undergraduate Programs

Undergraduate Minors

Undergraduate Certificates

Graduate Programs

Graduate Certificates
Events
During the academic year, the Sam Nunn School of International Affairs hosts approximately 20-25 events where they bring in guest experts to discuss vast topics. Past events for IAST have included: sustainability in space, data analytics in International Affairs, and U.S. Space Force with General John Raymond. The IAST track usually hosts five of these events per year.