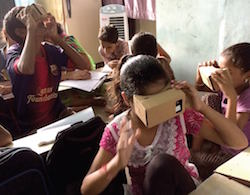 The Graduate Certificate in Global Development offered by the Sam Nunn School of International Affairs, School of Economics, and School of City & Regional Planning is available to Georgia Tech graduate students and applicants with a four-year baccalaureate degree from an accredited university or college. Admission is offered to those who appear to have the highest potential for successful graduate-level study and are the most likely to contribute substantially to their academic fields.
The admission committee considers several factors when making admission decisions, including academic performance at prior institutions (GPAs), statement of purpose, and letters of recommendation.
How to Apply: Current Georgia Tech Graduate Students
Students interested in applying to or learning more about the Global Development Certificate are encouraged to fill out the form below:
How to Apply: External Applicants
Start the application process by going to:
http://grad.gatech.edu/apply-now
You will be asked to select a major. When you enter Global Development, you will be routed to detailed instructions for completing and submitting the application, online letters of recommendation, and required documents. You should print these instructions so you can refer to them anytime.
Complete the online application on CollegeNet.

The online application includes:

The general Georgia Tech application. On this form, you will enter general information about yourself, your contact information, and your academic qualifications. You will also enter your statement of purpose and résumé while completing the online application. You must submit these online. Do not mail the statement of purpose or résumé a separate document. Note: It is critical that you accurately enter your personal contact information in the online application in case we need to contact you.
Georgia Residency Application
Information from Non-Citizens Form (International applicants only)
Submission and application fee payment.

Letters of Recommendation

Two letters of recommendation are required, and it is recommended that your recommendations come from faculty who are familiar with your academic performance. The letters of recommendation are submitted online. Information regarding the submission of the letters is given in the directions for submitting your online application. The Nunn School requires online letters of recommendation except in very rare circumstances. By not using the online system, you could cause delay in your application's consideration.

Submitting supporting documents

Instructions for submitting required documents are included in the directions you are given at the beginning of the online application process.

Documents to be mailed should be sent to:

Graduate Admissions Office 
631 Cherry Street
Savant Building, Room 318
Atlanta, GA 30332-0321

For all applicants:

Official transcripts from all schools attended after high school are required. If mailed transcripts are requested by Graduate Admissions, they must be in envelopes sealed by the issuing office in order to be considered official when mailed.

For international applicants only:

TOEFL or IELTS scores are mandatory for international students. The Nunn School requires a minimum TOEFL score of 100 for the iBT TOEFL or the equivalent in the paper or computer-based formats. The minimum requirements for the IELTS are 6.5 for reading, 6.5 for listening, 6.5 for speaking, 6.5 for writing with an overall score of 7. The TOEFL or IELTS requirements are waived for international students who have received a bachelor's degree from an accredited school in the United States or have completed one year of graduate studies in the United States. International students need to review this additional important information regarding your admissions process and financial aid.
The TOEFL institution code for Georgia Tech is 5248. The department code is 88.
Proof of financial support.
Application Status: External Applicants
After completing your online application, you will be permitted to check the status of documents sent to Georgia Tech. You may follow the progress of your application by logging into Status Checking found at www.buzzport.gatech.edu. Because some of the documents must be processed and certified by more than one office, please be patient. During high peak time, (January-March) it may take several weeks for some confirmations to appear.
Admission Decisions: External Applicants
Online applications must be completed and submitted and the application fee paid by the dates shown below to be considered. An admission decision will not be made on an incomplete application.
A Note to International Applicants: The deadline dates listed below are the latest that we will accept applications. However, it is strongly recommended that international students residing in and outside the United States submit their applications as early as possible.
Application Deadline
Graduate Certificate
United States Citizens and Permanent Residents
Fall Admission Deadline: June 15th
Spring Admission Deadline: October 31
International Applicants (includes those residing in the United States)
Fall Admission Deadline: March 1st
Spring Admission Deadline: September 1st